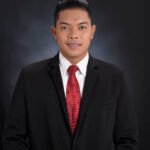 About Candidate
Maintains open links and coordination with the Regional Scout Director relative to all issues likely to affect the operation of the Regional Office & the Local Councils. Coordination to different agencies and monitor the updated after- action reports. Accomodates additional fuctions assigned by the RSD to improved the office work efficiency.
Location
Education
B
BSBA-HUMAN RESOURCES DEVELOPMENT MANAGEMENT
2018-2019
LYCEUM OF THE PHILIPPINES UNIVERSITY
Work & Experience
S
SALES ADMIN/HR OFFICER
JUNE 2019 - AUGUST 2019
FOTON BATNGAS SUPER GT MOTORS SALES and SERVICES INC.
S
STAFF ASSISTANT III
JANUARY 2020 - FEBRUARY 2023
BOYS COUTS OF THE PHILIPPINES, NATIONAL CAPITAL REGION
Awards
B
BRONZE SERVICE AAWARD
2021
FROM BOY SCOUTS OF THE PHILIPPINES NATIONAL OFFICE -Outstanding service rendered to the BSP-NATIONAL OFFICE, CITY OF MANILA (OCTOBER 29, 2021)